WELL LOOK WHO HAS RISEN FROM THE ASHES! It is me, Lily, although you have probably forgotten who I am... and unfortunately it might continue to stay that way for a little while.
So I haven't posted in a really, really long time, and this is for a multitude of reasons. The biggest though, is the fact that I am currently undertaking my senior year of high school, and it sure is busy! I barely have time to read, let alone write about it. And so, consequently, my dear old book blog has suffered. Fortunately, however, we are on the downhill slope. I graduate in September and then finish my final exams in around November-ish, so hopefully, by 2018, I will be back posting as regularly as I can with BRAND NEW CONTENT AND NEW THINGS AND MAYBE EVEN WRITING OOOO! I want to talk about lots of things on here, I want to branch out further than just reviews and recommendations. But that is all in store for the future, because (though I have tried) there is nothing I can do to make this year disappear.
Until then! I thought I'd put together a brief little post on this fine Friday evening discussing the three books I keep on my nightstand. All three of them are poetry, and I don't think I've talked about poetry much on here before, so now is the perfect time (maybe that's more the direction this blog is taking when I revive it in 2018 oooo...) to delve into them.
1. Selected Poems by E.E. Cummings, by e.e. cummings
This first book is pretty much a staple of my life. I adore e.e. cummings, in fact I feel as if he understands me better than I do (which is strange on several levels, especially considering he had died before I was even born and never met me...). I have read it many, many times through, and it is tabbed to the point where I think almost every page or every second page has a tab. I love his way with words, I love his manipulation of language and I love his use of typography and "deviant morphology" as the professionals call it (look at me, I guess my hard work in extension two english is paying off! ;) haha). This particular anthology has several of my very favourite poems of his. It has some more obscure ones, but also very popular ones too. Of course, I also have a complete set of his poems (which is legitimately, I kid you not, almost 1,200 pages...!), but I just love how portable and easy this collection is to take places, or just to read a bit of before bed. So yes, this is definitely an essential on my nightstand... if it's not already in my handbag or somewhere else!
When I saw this book online, I'll be honest, I fell in love with the font, cover and general feel of the book. If you own it, you'll know that it is just a delightful book to hold and flick through. But even better, it is also beautifully written and a wonderful story. I do look at this book as one continuous story, and I think if you look at each poem individually, sometimes they can fall short. However, collectively, I adore this selection of poems by the enormously talented Rupi Kaur. This book focuses on many heavy themes, including relationships, breakdowns of relationships (both romantic and otherwise), and feminism. I just love how the book takes you on a journey; you see the things at the beginning of the book that have made the narrator who she is at the end of the book, and I personally find that progression and flow extremely empowering and relatable. I think Rupi is extremely talented, and I'm very excited to see what she comes up with in the future. I keep her book beside my bed at all times because just the look of it makes me feel stronger, and helps me remember the lessons it has taught me.
I have a tumultuous relationship with Memories, and all Lang Leav poetry in general, but this book is
undoubtedly a staple on my nightstand. My personal problem with Leav's poetry is that I find I love love love some of her poems, and then others I find quite cliche and boring, and not to the standard of the ones that I love. But do not underestimate the power of the ones I do love, because some of the poems in
Memories
are up in my list of favourite poems of all time. Leav's writing style I love is when she uses that brilliant lyrical tone, with a gentle rhyme but not too overdone. One poem of her that is definitely one of my favourites of all time is
The Rose,
which I believe to be the first poem in
Memories.
In addition to the beautiful poetry,
Memories
is a gorgeous book because the illustrations and aesthetics of the book are just incredible. The book feels delightful to hold, and just looking at it feels like you're entering Leav's mind, and the visual connection to the poetry is one of my favourite things about the design of the book.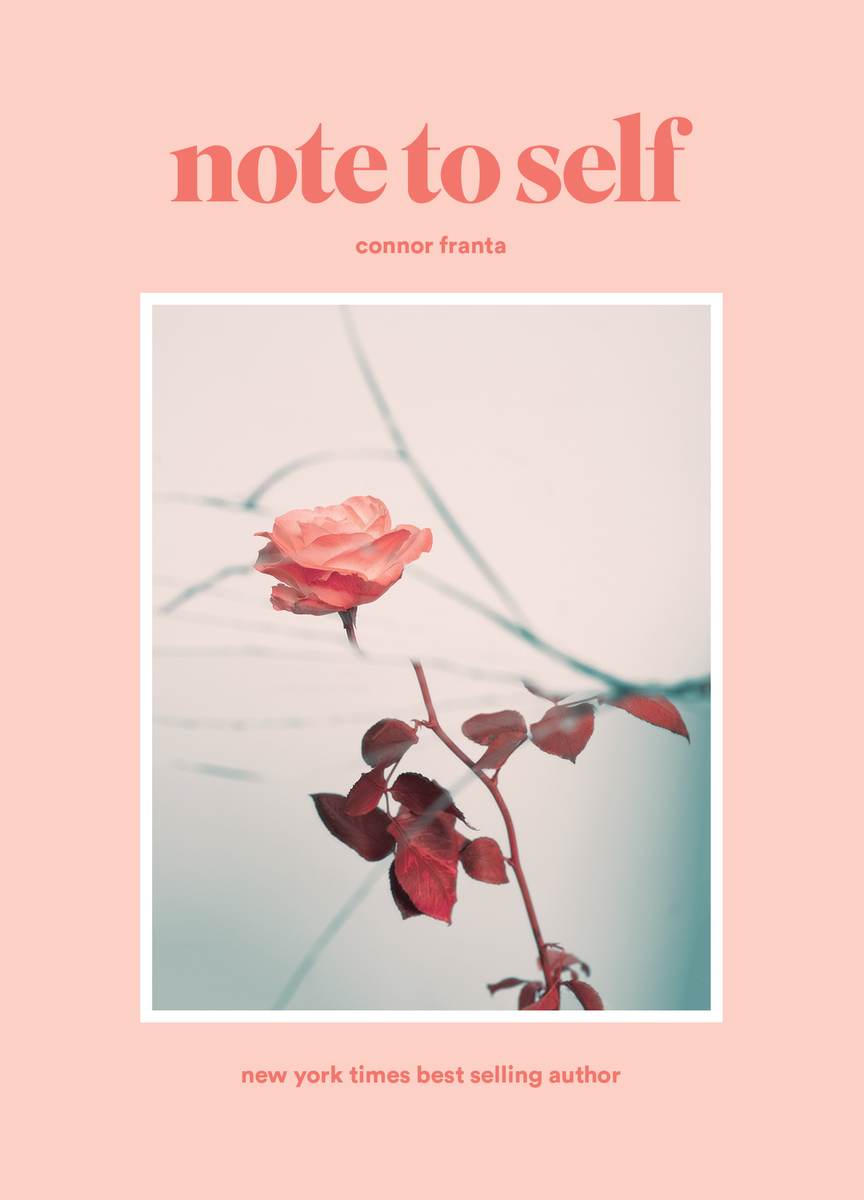 In addition to these three books, I also have two honourable mentions! The first is Note to Self by
Connor Franta, which I didn't include in the main part of the post simply because I only bought it recently and haven't actually read much of it yet. However, it has sat proudly on my nightstand ever since I bought it, because it is a BEAUTIFUL book, that incorporates poetry, writing, musings, and photography. I am a huge fan of the aesthetics of the book, and the writing that I've read so far has been quite lovely. I am excited to keep reading it, and one day maybe write up a full review of it.
The final book that perpetually lives on my nightstand is... haha... HIDE AND SEEK written by yours truly (look at that cheeky self-promo right there)! I keep a copy of my own book beside my bed for mainly one reason - because I like to remember what I am aiming for in the future! the copy I keep beside my bed is an especially significant one, because it is the one I have done readings from and tabbed up to no end back when the book first came out and I did a few speaking engagements here and there. I love this copy of my book because it reminds me of a time that was amazing, and it inspires me to keep working hard and
get more of my writing out there!
As I mentioned earlier in the post, I'm super excited to write more and get more of my reviews, recommendations, posts about books and my own writing onto this blog. I've grown so much as a person and a writer behind the scenes of this blog, and once I have more time to dedicate to making this blog as amazing as it should be, I hope to show everyone! Until then, feel free to buy my book on Amazon, Book Depository, Booktopia, and several other online bookstores... and you can read more about it
here
. As I mentioned, it's called Hide and Seek, and it's by meeee, Lily Sommer! Any copies you buy of it help me out a lot and of course my main goal is to have people enjoy my writing in any way they can <3
This might be goodbye for a little while, but you can keep up with my goings on by following my twitter, instagram, and tumblr, which are all linked in my
socials tab
up the top, under the banner.
Until next time,
Lily xo