♫
On the third day of Bookmas, the book blogger gave to me, comic book thoughts, a list of writing tips and a book rec for a mystery...
♫
Hello and welcome back for the third day of Bookmas! Today I thought I'd discuss a medium I haven't talked much about on here, but one I adore. Comic books! I started exploring comic books in greater depth during last year, and since then, I've been trying to read a variety of different stories.
Last year, I started with, typically enough, The Avengers. I read The Coming of the Avengers by Stan Lee, followed by Ultron Unlimited by Kurt Busiek and George Perez. I then moved in a very different direction, and read The Umbrella Academy: The Apocalypse Suite and also the second UA, Dallas, by Gerard Way. I then strayed back into Marvel to read Ms Marvel: No Normal by G. Willow Wilson, which is still one of my favourite comics today. Shortly after, I read some more Gerard Way, The True Lives of the Fabulous Killjoys (which is, strangely enough, the comic book story for one of my favourite My Chemical Romance albums, which goes by the same name), before crossing over into, dare I say it, DC Comics to read Batwoman: Elegy.
That was just a quick overview of my comic book experimentation so far. A lot of these comics have been amazing, from the stories to characters to art. I find that comics are a starkly different storytelling device to novels, and the stories consequently are interpreted in a different way. So, I am going to give a quick recommendation of the aforementioned comics, where you can find out what they're about, and whether they're for you.
The Coming of the Avengers, Stan Lee
Marvel
The Avengers is a classic. This comic, written in 1963, is stylistically very classic comic book style.
The art and font is very classic and whimsical, and it's really fun to read because of the vintage feel. I would start here if you're interested in superhero comics, or if you've enjoyed Marvel movies or more recent Marvel comics. It's a fun blast from the past!
Ultron Unlimited, Kurt Busiek and George Perez
Marvel
This is a more modern Avengers comic. The art is more sleek and detailed, and the colours are much more bright. It is less whimsical than The Coming of the Avengers, and is slightly darker and more angst-filled. This follows a classic Avengers tale, the one of villain Ultron. If you went to see the second Avengers film, Age of Ultron, you might want to give this a go to see one of the original comics which starred the villain, characters and world you've seen portrayed on the big screen.
Umbrella Academy, Gerard Way
Dark Horse Comics
This dark, cynical, superhero sci-fi tale is so starkly different from any other comic book I've read.
Gerard Way, the lead singer of one of my all-time favourite bands, My Chemical Romance, is such a unique story teller, and his visions for the story are clearly something special. The comic follows a group of seven children who were born spontaneously, and are adopted by a millionaire inventor for no discernible reason. These children discover they have powers, and from the age of ten, start to fight evil. But after disbanding, ten years later, their adoptive father's death brings them all back together... to save the world again. I would recommend this comic to lovers of clever, cynical wit, steampunk themes, disgruntled, angsty superheroes and unique world-saving.
Ms Marvel: No Normal, G. Willow Wilson
Marvel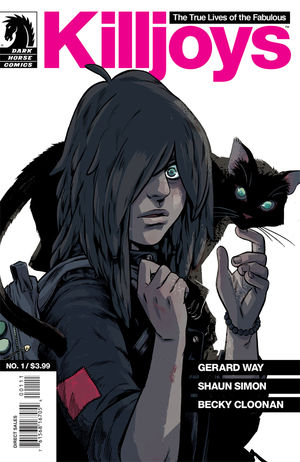 Ms Marvel
follows Kamala Khan, an unassuming Muslim girl from Jersey City, who admires superheroes like Captain Marvel. When she discovers she has strange powers, Kamala must begin a journey of discovering who she is, what her powers are, how she should use them, and how to live her life as a normal girl (if she can). Kamala is a strong, lovable female lead, and her story is empowering and enthralling. This comic has an air of classic comic conventions, but it also has new themes and lots of representation that seems to be lacking in a lot of comics, and pop culture in general. I would recommend this comic to fans of books such as
I Am Princess X
and lovers of good, strong female-led stories.
The True Lives of the Fabulous Killjoys, Gerard Way
Dark Horse Comics
When I heard Gerard was writing out the comic story of
Danger Days,
I got very excited. That album had always captured my imagination, especially with its playful, comical (yet undeniably dark) music videos. This comic book does not disappoint. It follows the journey of the Girl, who is stranded in a post-apocalyptic city ruled by Better Living Industries. Years ago, the Fabulous Killjoys, her heroes and the closest thing she had to family, died fighting BLI. Now, she must avenge them, and tackle BLI. But first and foremost, she must survive the world BLI now runs. This comic is bright and the art is distinctive and edgy. It seems whimsical and playful on the surface, but it is quite dark. The themes and underlying messages are meaningful. This is another incredibly unique comic. With a distinctive dystopian backdrop and a strong selection of characters, I would highly recommend
Killjoys.
Batwoman: Elegy, Greg Rucka
DC Comics
Ordinarily, I'm strictly a Marvel girl. But it is worth crossing the floor to read a female-led comic starring a super-villain inspired by Alice in Wonderland. This comic is dark and edgy, and the art reflects it. Being my first DC Comic, I found it was a lot less humorous than anything Marvel I've read. The themes are just as poignant, however the surface dialogue and story does little to hide it. The story follows Kate Kane, or Batwoman, and her fight against Gotham's latest threat — a crazed madwoman leading covens of witches, who quotes Alice in Wonderland. This comic is similar to the Batman comics and films, with its stoic heroism and "fist of justice" attitude. I would highly recommend this comic to fans of Batman and other DC stories.
If you consider yourself a comic book aficionado, or just someone who's still learning like me, let me know in the comments below or via any of my socials and we can discuss! I have loved experimenting with comic books and I don't plan to stop any time soon, so if you have any recommendations or just want to share your experience, I'm definitely willing!
As always, feel free to strike up a conversation about anything via my socials! I'm always willing to chat with y'all. Additionally, my email (mywordsarearrows@gmail.com) is always open for business inquiries, feedback, questions about my book, or just to say hi!
I hope you've enjoyed this post, and I'll see you tomorrow with another Bookmas post.
Lily xo