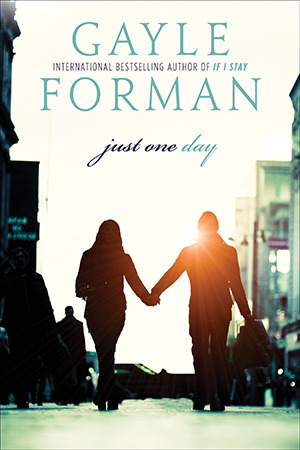 I'm so sorry it's been a while! I've been so busy with work (and publishing my book... eep!) but I'm back again with another splendid post! And today, I am going to be
reviewing a book you've most likely heard of. Just One Day by Gayle Forman. And as someone who spends a lot of time on goodreads, in the YA blogosphere and on booktube accounts, I have heard many, many things about Just One Day. So, in an effort to find a book that would entertain me from finishing The Darkest Part Of The Forest, which was fantastic, to when In Honor arrived in the mail, I picked up Just One Day from my library in the hope that it'd give me something to do in between. And boy, did it ever!
I had been skeptical about this book for a while, particularly as I didn't really enjoy If I Stay all that much and also because I thought that the entire book was set over the course of one day. 360 pages and one day. And so I shoved it at the bottom of my TBR list. But as per usual, the books I think I won't enjoy are the ones I do. It's always the way.
If you did enjoy If I Stay, you will definitely love this. I would also recommend it to fans of Anna And The French Kiss by Stephanie Perkins and fans of Rainbow Rowell.
Here's the synopsis;
Allyson Healey's life is exactly like her suitcase—packed, planned, ordered. Then on the last day of her three-week post-graduation European tour, she meets Willem. A free-spirited, roving actor, Willem is everything she's not, and when he invites her to abandon her plans and come to Paris with him, Allyson says yes. This uncharacteristic decision leads to a day of risk and romance, liberation and intimacy: 24 hours that will transform Allyson's life.
If you're into travel-finding-yourself-romances, this is right up your alley. I would certainly recommend to lovers of a good young adult contemporary. For me, it had some issues but definitely a solid four out of five stars.
So if you haven't read Just One Day and you'd like to, go find yourself a copy and check it out, then come back to check out my spoiler review!
***SPOILERS***
Where to start? My feelings for this book are so conflicted. I have some major issues that really kept me from totally loving this book but I also tore through it at a rate I haven't in a while.
Let's discuss the plot. The plot drove this book, I think, as the characters were fairly weak. I really loved the way the plot moved so fluidly, like when Jacques, that guy Willem and Allyson met in Paris, said that time was fluid. I also felt like the themes in this book were carried through really well and none of them (and let's be real, there was a lot of them) were left behind and forgotten. The central themes, of course, being Willem's idea of love, and his "stain" analogy, and of course the whole accidents idea. I was so glad that these themes, in addition to all the others (like Allyson's scar on her neck, the things Willem and Allyson said to one another, the whole idea of "Lulu" and the symbolism of time and Allyson's watch), were continued nicely.
And yes, being wrong about the entire book being set on one day was entirely my fault. I need to stop jumping to conclusions. The start of the book, this One Day Allyson spent with Willem, was a total of 142 pages. These pages did not drag at any point. The entire day was fast-paced and I was constantly intrigued. There wasn't one point during this first part where I wanted to put the book down, and so I didn't. The book did, however, come to a lull in the first part of the one year later half. And I think the reason this bit was so hard to read was that Allyson was just such a sad sack, and such a boring character to have narrating.
Allyson Heady was not in any way shape or form an overly interesting character. At the start of the book, she was mopey, average and following around in the footsteps of her prettier, more adventurous best friend. She was your typical YA protagonist. Constantly commenting on how "unpretty" she is, but somehow also manages to be "strikingly beautiful" later on, boxed in, pressured by her ambitious parents, constantly jealous of the more socially competent, prettier girls around her. I don't think there was one girl in the One Day part and the start of the One Year part she narrated in a positive light. Maybe except her grandmother. It wasn't until she met up with the "Oz gang" and Wren in her return to Paris where she actually stopped comparing herself to the girls around her and just settled.
Allyson was just very, very average. And also rather childish, I found. She often overreacted and jumped to conclusions and had zero motivation, which made me sometimes forget that her character was meant to be eighteen/nineteen. And maybe it's because I'm a cynic and I've never been "in love", but really, this girl was seriously hung up on a one-day fling, a day that ended badly because she didn't actually think that morning through. Logically, though, when Willem wasn't there in the morning, she didn't think things through and wait for him, but totally flipped. This made her character really annoying to deal with eighty percent of the time.
Despite this, I think Gayle Forman meant to make Allyson annoying. I think she wanted us to see the stark difference between Lulu and Allyson, and wanted us to realize that Allyson wasn't just pining for Willem, but also for Lulu. The part of her that she lost. And when you look at it in this light, the way Allyson was written does make sense. But honestly, I wanted to slap her in the face a lot during this book.
Willem was interesting and adorable but also very average. He was interesting, because he clearly liked Allyson a lot, but he still seemed like a total player. I, like Allyson, was constantly confused by his messages. He was a bit like Adam from If I Stay, in that I just couldn't figure him out and therefore it made him harder to care about.
In addition to this, he was also kind of a jerk. Throughout the book it seems like he had no less than seven girlfriends either closely before Allyson or in the year in between. And although I had a feeling Allyson had misunderstood the morning where he left, it still made me angry that he never seemed to put in a lot of effort to find her. Like, really, in the internet era we live in, finding someone really isn't that hard. We all Facebook stalk and google our crushes, and often with results that lead to more information and more information, so I really don't think he put in much of an effort.
But don't let these rants about characters lead you to think I didn't enjoy the book, because I did, I really did. For me, however, as you probably already know, characters are the most important part of any story. And in this book, I felt like I didn't connect with any of the characters.
One of the things I loved most about this book was the way that the Allyson/Lulu dynamic played out. I thought it was so interesting watching Allyson realize she not only wanted to see Willem again, but Lulu. It was so awesome to see just how different she was when she spent that day with Willem, like before and after she was just a shell of who she wanted to be. It reminded me a little of the mythology behind eating faerie food. Once you try it, everything else tastes like ash and dust. I felt like once Allyson had tried being Lulu, she sunk into depression in the way she did because she realized she hated Allyson and loved Lulu.
I was so glad we were able to see Allyson return to Lulu, and without Willem's help. Although it annoyed me to no end that it took so long to find Willem again, I must say!
Although I didn't love Allyson and Willem separately, the time they were together was certainty the most enjoyable as a reader. They clearly brought out the best in one another and were better off together than alone, and I think that's a good indicator of how well a relationship is working out. I definitely hoped that Willem had some sort of explanation for why he'd (seemingly) been such a jerk and I did hope they'd get back together, for the benefit of them both.
Fate plays a big part in this book, and as someone who doesn't quite believe in the sort of fate or "accidents" portrayed in the story, it was both hard to relate to but also refreshing. It was nice seeing this idea of fate through much more positive eyes, but at the same time I found the events in the book to be impossible and completely fictitious. But then again, isn't that what makes books so enjoyable?
And wow, that cliffhanger is the motivation I needed to be sure of reading the next book. I understand Just One Year is the year in between the One Day Allyson and Willem spent together and the day they meet again from Willem's point of view. I am very curious to see this from Willem's point of view and start decoding him as a character a bit more.
I would love to know your thoughts on this book or the series (although no spoilers, please!!!) in the comments below. If you would rather tweet me your thoughts, send a tweet to @lilypherondale and if you're more of a tumblr sort of person, I love getting asks on my tumblr,
sherlockcrumpets
. You can also like my
facebook page
to keep up to date with what I'm reading and posting!
If you want to talk business or just say hi more privately, feel free to send me an email at mywordsarearrows@gmail.com.
See you next week with another post!
Lily xoxo